The world's most original calendars

*

will promote your business in a fun, imaginative way!
7 National Calendar Awards
5 World Calendar Awards
Calendar Marketing Association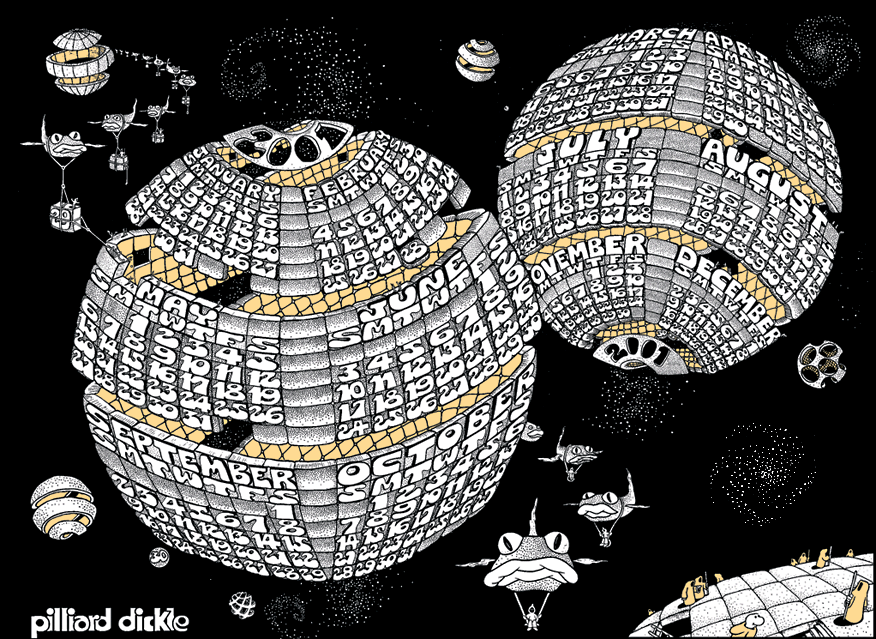 Sample prices
for poster calendars
(Other formats also available)
12X18
100 500 1000
4.00 3.00 2.00
​
18X24
100 500 1000
6.00 4.00 3.00
​
Includes your imprint, full color.
​
Add'l options:
Custom artwork
Lamination
Printing on back
"My very favorite of all calendars I've ever seen!"
Gene Shalit
The Today Show
"No home should be without a Pilliard Dickle calendar."
David Letterman
Your message can appear throughout the calendar, as an integral part of the artwork.
Everybody loves the unique poster calendars drawn by Pilliard Dickle. Associated Press calls them "a yearlong trip through a cartoon fantasy land."
You can even have you or your staff drawn in!
Or anything else you want. We're here to create a fun calendar your customers will enjoy all year.
Calendars can be created to promote specific places or events.
Nashville's Ryman Auditorium
You can get existing calendar designs customized.
​
This one was for comedian Mike Birbiglia

(Orange is the New Black).

His jokes were depicted visually.
Or get a calendar custom-drawn, from the ground up!
There are stories about the calendars, too.
They can be included as an insert or printed on the back, along with additional information about your business. Your customers will look forward each year to the next installment of this imaginative adventure through The Land of Calendaria.
These multi-pad wall calendars work very well each year at promoting Fieldale Farms—happy clients since 2002.
​
Each calendar is hand-personalized to the recipient. This one even talks!
Take a 2 minute escape into another world!