The attraction of the moon
A giant Calendarian moon is skimming close to the ground, and its gravitational pull is wreaking havoc with this normally sleepy seaside village. The villagers have all come out to play in the light gravity. Poster measures 18x24. Comes laminated, ready to hang, or paper, ready to frame. You can also get it personalized with the names of your gift recipients drawn into the calendar by the artist, and special days highlighted in color.
Laminated $25. Unlaminated $20. Personalization $12.
Publication date: November 21
​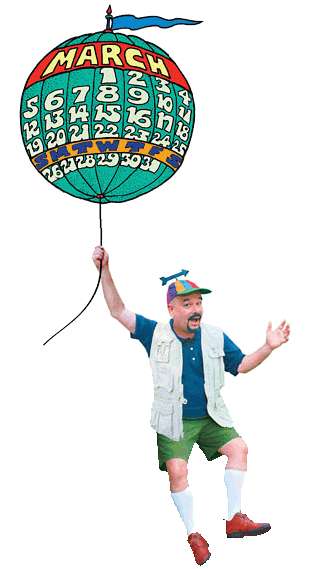 The meticulous black and white drawings of Pilliard Dickle's calendars, before he adds color, is a coloring book 35 years in the making. Includes pages from PD's sketechook, stories from his time travel diary, weird Calendarian mandalas and sketches of years glimpsed but never visited. Whether you color it or not, it's fun to read, and a delightful trip through a fantasy land of time.
​
8 1/2 X 11, 112 pages, $13.95
Pilliard Dickle's calendars are now a coloring book!