"My very favorite of all calendars I've ever seen!"
Gene Shalit,

The Today Show
These
unique poster calendars by artist Pilliard Dickle will add a splash of creativity and fun to your customers' walls while promoting your business all year long.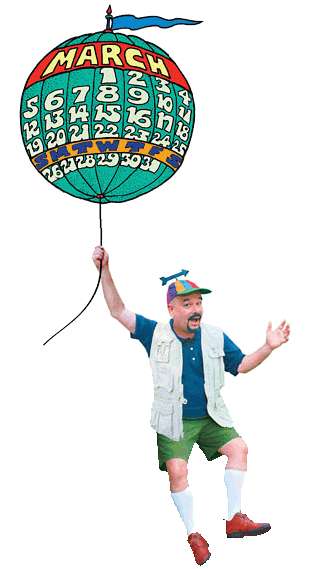 Calendar artist and Time Explorer Pilliard Dickle
"No home should be without a Pilliard Dickle calendar."
David Letterman
Nashville's Ryman Auditorium
Comedian Mike Birbiglia

(Orange is the New Black)

commissioned Pilliard Dickle to design calendars depicting his jokes.
"A feast for the imagination."
The Atlanta Journal-Constitution
The Jon Ossoff campaign commissioned Pilliard Dickle to design this calendar. (Apparently it worked!)
Fieldale Farms Corp. promotes its Springer Mountain Farms brand chicken to their customers the world over with giant multi-pad calendars.
Your customers will love getting these imaginative calendars every year!
"A yearlong trip through a cartoon fantasy land."
Associated Press
"My clients receive lots of calendars each year, but yours is always the one I see on their walls. Some customers even frame them."
Bruce Davis
White Knight Textiles
(Medical textile supplies)
There are stories about the calendars, too.
It's the artist's Time Travel Diary he keeps as he wends his way across Calendaria in search of picturesque new years.
The stories can be included with the calendar, along with information about your business.
Whether we integrate your message into an existing calendar design or create a custom calendar from the ground up, let's talk about how we can make these fun calendars work for you!